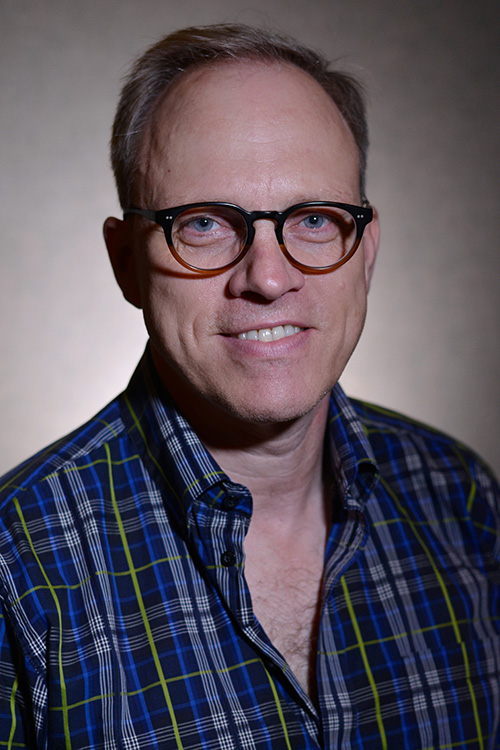 Johannes Endres
Associate Professor, Comparative Literature and Art History
Dr. phil., Universität Trier; Habilitation/Dr. phil.habil., Universität Leipzig/Germany
Office: HMNSS 2514
Email: johannes.endres@ucr.edu
UCR | Department of Comparative Literature and Languages
Johannes Endres joined the departments of Art History and Comparative Literature at UC Riverside in summer 2015 as Assistant Professor. He has received his academic education in Germany, at the Universities of Trier and Leipzig, where he earned his Dr.phil. in 1995, and his Habilitation (Dr.phil.habil.) in 2004, respectively. In the US, he has been teaching as Visiting Professor at the Universities of California in Riverside and Irvine, at San Diego State University, Vanderbilt University, and Cal State Long Beach.
Areas of Specialization
19th Century Art History
German and European Literature 1750-1900 in Interdisciplinary Perspectives (Visual Arts, Film, Music, Sciences)
Cultural Studies
Critical Theory
Important emphases of his research and teaching lie in the area of the history and arts of the 'long 19th century', from enlightenment to Weimar Culture and Vienna Moderne. He has published extensively on the intersections of text, visual arts, music, intellectual history, natural sciences, and the history of science. His most recent research projects are dedicated to Friedrich Schlegel, a pivotal figure of German and European intellectualism, and to concepts of fetishism in art, culture, and social studies.
Books
Friedrich Schlegel Handbuch: Leben – Werk – Wirkung (Friedrich Schlegel Handbook: Life – Work – Reception), Stuttgart: J.B. Metzler, 2017.
Friedrich Schlegel's life career, from his revolutionary youth over the Jena years up to his catholic conversion, serves as a mirror of the Romantic era as a whole. His theoretical writings laid the groundwork for the idea of Romantic poetry as a "progressive universal poetry"; his historical-critical method helped to establish 'Literaturwissenschaft' (literary studies) in the way it is still practiced today. This handbook presents Schlegel's oeuvre in its entirety, covering, besides his literary and aesthetic writings, his texts and fragments on classical studies, philosophy, the history of European and world literature, history and politics, and art history, including his many-faceted activities as editor, journalist, and prolific letter writer. Additional chapters address terms and ideas pivotal to his work at large, such as Fragment, Irony, Wit ("Witz"), Mythology, Revolution, and Incomprehensibility. The book, which features contributions from internationally recognized Schlegel and Romanticism scholars, is the first comprehensive reference work on one of the most influential spearheads of European intellectual history.
Literatur und Fetischismus: Das Bild des Schleiers zwischen Aufklärung und Moderne (Literature and Fetishism: The Veil-Motif from Enlightenment to Modernity)
2014, FINK: MUNICH
European eighteenth-century discourse saw the advent of two concepts, which have been central to our understanding of man's relationship to the world and himself ever since: the proclamation of the autonomous artwork and the stigmatization of un-enlightened attitudes towards reality as ›fetishistic‹. The book argues that this is not a coincidence. Thus, it explores the discourse on and the phenomenon of fetishism in its major historical manifestations in ethnology, religious philosophy, social and economic theory, and finally psychoanalysis from the eighteenth to the twentieth century. Particular interest is paid to the metaphorical transfer of the veil motif between images and text, including the comparison of both media in the history of aesthetics from Lessing over Kant, Hegel and Nietzsche up to Benjamin and Warburg. The history of modern art thus appears as a revision of a teleology that implies an evolutionary escape of man from its fetishistic beginnings.
Codes of Passion: Fetishims in the Arts
2010, FINK: MUNICH
Co-author
The book contains contributions from scholars from literary, visual and media studies, history, the social sciences, philosophy, anthropology, psychoanalysis, and fashion history. It is the first to focus on the role of fetishism in the arts and their relevance for the discourse on fetishism. Fetishism is a key phenomenon of modern societies. It not only influences religious and mental dispositions but also libidinous object relations in consumerism and mass culture. The contributions thus focus on fetishism as a cultural 'index fossil' and pursue its traces into the fields of force between artists, works, collections, art reception, and beyond. In doing so, the book traces back present cultures of fetishism in art, media, and economy to the origin of fetishism as an intercultural and colonialist concept in the 18th century.
Iconology of Interspace: The Veil as Medium and Metaphor
2005, FINK: MUNICH
Co-author
This volume gathers the proceedings of the conference "Veil: Image, Text, Ritual", co-organized with Gerhard Wolf at the University of Trier in 2001. Its contributions discuss the veil as an artistic motif, a literary metaphor and an episteme in aesthetics, ethnology, anthropology, philosophy, social and political sciences. Both conference and book brought together specialist from various fields to explore the changes and continuities of representations of the veil. The contributions are tied together by conceptual essays from the editors, which highlight overarching aspects such as textures of opacity, allegories of seeing and reading, thresholds between media, and specters and their garments‹. Conference and book realize a fruitful collaboration between academics from literary history, art history, philosophy, and beyond.
The "Disempowered" Subject: On the History and Function of Comedy in Heinrich von Kleist's Works
1996, KÖNIGSHAUSEN & NEUMANN: WÜRZBURG

Kleist scholars tend to imagine the author as the paradigmatic exponent of a tragic mind. The shadows of his tragedies in life and literature seem too heavy and gloomy to leave room for comic tendencies. Although Kleist's two comedies have always been acknowledged as true highlights in the history of the genre, his comic "strategies" – as well as their precedents from Lessing to Freud – have mostly been ignored. However, with such strategies in mind, the author's situation appears as one in which the demands of an idealist worldview provoke a retreat to the limited and reduced formats of comedy. Kleist's massive ›struggle with Schiller‹ – his predominant role model and antipode – is here reexamined in the light of a general struggle to avoid tragic inevitabilities.
Select Publications
"Charakteristiken und Kritiken (Characteristics and Critiques)," Friedrich Schlegel Handbuch: Leben – Werk – Wirkung, ed. Johannes Endres, Stuttgart: J.B. Metzler 2017,  101-140.
"Über die Sprache und Weisheit der Indier (On the Language and Wisdom of the Indians)," Friedrich Schlegel Handbuch: Leben – Werk – Wirkung, ed. Johannes Endres. Stuttgart: J.B. Metzler 2017, 218-224.
"Über deutsche Sprache und Literatur (On German Language and Literature)," Friedrich Schlegel Handbuch: Leben – Werk – Wirkung, ed. Johannes Endres, Stuttgart: J.B. Metzler 2017, 235-237.
"Stockings," Textile Terms: A Glossary, ed. Anika Reineke, Anne Röhl, Mateusz Kapustka and Tristan Weddigen, Berlin: Gebr. Mann Verlag 2017, 243-247.
David Friedrich Strauß und Lessing,« Lessing Yearbook XLII, 2015, 173-193
Meaningful Complexity: Goethe's Concept of Similarity,« Modern Language Notes (MLN) 130/3, 2015, 466-486
Die Geburt der Metapher aus dem Selbstmord des Dichters. Zu Hölderlins Empedokles (The Birth of Metaphor from the Poet's Suicide: On Hölderlin's Empedocles),« Ökonomie des Opfers. Literatur im Zeichen des Suizids (Morphomata, Bd. 14), Munich 2014, 133-166
Zeitkapsel und Paratext (Time Capsule and Paratext),« Verborgen, unsichtbar, unlesbar – zur Problematik restringierter Schriftpräsenz (Workshop SFB 933), New York: de Gruyter 2014, 215-232»Notes from the Field: Detail,« The Art Bulletin 94/4, 2012, 481‑485
Unähnliche Ähnlichkeit: Zu Analogie, Metapher und Verwandtschaft (Unsimilar Similarity: On Analogy, Metaphor, and Kinship),« Konzepte der Ähnlichkeit in den Künsten (Concepts of Similarity in the Arts), ed. Martin Gaier et al., Munich: Fink, 2012, 29‑58
Textures and Cuts. The Textile Metaphor in Jörg Wickram's The Golden Thread,« Unfolding the Textile Medium in Early Art and Literature, ed. Tristan Weddigen, Berlin: Edition Imorde, 2011, 15‑30
Professor Endres' Curriculum Vitae
Education and Degrees
University Leipzig, Department of German Literature, Habilitation (Dr. phil. habil.), 2004
University Trier, Department of German Literature and Linguistics, Ph.D. (Dr. phil.), 1995
University Trier, Department of German Literature and Linguistics/Department of History, M.A., 1990
University Trier, Undergraduate and Graduate Studies, Department of German Literature and Linguistics/Department of History, 1984-1989
Selected Fellowships and Awards
Summer Guest Researcher at the Getty Research Institute, August-September 2010
Guest Researcher, Max-Planck-Institute (KHI), Florence/Italy, August-September 2012
Guest Researcher, Max-Planck-Institute (KHI), Florence/Italy, August-September 2011
DFG-Network (funded by the German Research Society, DFG) Die Macht des Gesichts. Büste, Kopf- und Körperbild in Mittelalter und früher Neuzeit (The Power of the Face. Bust, Head and Body Images im Medieval Times and Early Modernity), speaker Jeanette Kohl, University Leipzig, 2006-2008
Postdoctoral Fellowship (Habilitanden-Stipendium), German Research Society (DFG), 2000-2002
Visiting Fellowship, Department of History and Civilization, European University Institute (EUI), Florence/Italy, 2001-2002
Oskar-Seidlin-Preis, Award for outstanding research and publications in the field of German literature of the classical-romantic period, granted by the International Eichendorff-Society, 1997
Publications
Books (monographic)
Literatur und Fetischismus. Das Bild des Schleiers zwischen Aufklärung und Moderne (Literature and Fetishism: The Veil-Motif from Enlightenment to Modernity), Munich (Fink) 2014 450 pages
Das "depotenzierte" Subjekt. Zu Geschichte und Funktion des Komischen bei Heinrich von Kleist (The 'Disempowered' Subject: On the History and Function of Comedy in Heinrich von Kleist's Works), Würzburg (Königshausen & Neumann) 1996 (Epistemata. Würzburger wissenschaftliche Schriften: Reihe Literaturwissenschaft, Bd. 173) 220 pages
Books (co-edited)
Codes der Leidenschaften. Der Fetischismus der Künste (Codes of Passion: Fetishism in the Arts), co-edited with Hartmut Böhme, München (Fink) 2010 405 pages
Ikonologie des Zwischenraums. Der Schleier als Medium und Metapher (Iconology of Threshold: The Veil as Medium and Metaphor), co-edited with Barbara Wittmann and Gerhard Wolf, München (Fink: Bild und Text) 2005 420 pages
Books in preparation
Friedrich Schlegel, Fragmente und andere Schriften. Kommentierte Edition (Aphorisms and Writings: Text and Commentary), Stuttgart (Reclam), 2016
Fetischismus: Eine Quellensammlung (Fetishism: Source Texts), Frankfurt a.M. (Suhrkamp: stw), 2016
Friedrich Schlegel Handbuch: Leben – Werk – Wirkung (Schlegel Handbook: Life – Work – Legacy), Weimar/Stuttgart (Metzler), 2015
Digital Media
(Collaborator) Der Digitale Grimm (German Dictionary), ed. Kompetenzzentrum für elektronische Erschließungs- und Publikationsverfahren in den Geisteswissenschaften an der Universität Trier in Verbindung mit der Berlin-Brandenburgischen Akademie der Wissenschaften (2 CD-ROM), 2004
Articles in peer-reviewed periodicals
"Meaningful Complexity: Goethe's Concept of Similarity," Modern Language Notes (MLN) 2015, pp 466-486
"Notes from the Field: Detail," The Art Bulletin 94/4, 2012, pp 481-485
"'Si wunder wol gemachet wîp.' Gesicht, Körper und das Paradox der sichtbaren Unsichtbarkeit (Face, Body, and the Paradox of Visible Invisibility)," Zeitschrift für Kunstgeschichte 2009, pp 297-312
"Evolution und Erbe. Zur Problemgeschichte der 'Wahlverwandtschaften' bei Goethe und Darwin (Evolution and Legacy: 'Elective Affinities' in Goethe and Darwin)," KulturPoetik 9, 2009,
pp 45–66
"Sicherheit und Ästhetik. Historische und kulturelle Aspekte einer aktuellen Konjunktur (Security and Aesthetics: Historical and Cultural Aspects of an Up-to-Date Discourse)," Behemot. A Journal of Civilization 1, 2008, pp 16-27
"Knochenreste. Versuch einer begrifflichen Differenzierung im Anschluss an Goethe (Bones as Remains: A Historical Differentiation, Following Goethe)," Kritische Berichte 36, 2008, pp 7-18
"'I spy with my little eye,' or: There is no Alternative to the Culture of Arguments," Journal for Literary Theory (JLT) 2, 2008, pp 157-166
"Beschneidung, Kastration, Schrift. Zur textuellen Repräsentation von Scham und Schuld (Circumcision, Castration, Scripture: On the Textual Representation of Shame and Guilt)," Poetica 2007, pp 1-21
"Geschichte, Nation, Erbe: Hebbels Nibelungen und Shakespeare (History, Nation, Heritage: Hebbel's Nibelungen and Shakespeare)," Hebbel Jahrbuch 2007, pp 139-160
"Diderot, Hogarth and the Aesthetics of Depilation," Eighteenth Century Studies. Special Issue: Hair (The Johns Hopkins University Press), Baltimore 38-1, 2004, pp 17-38
"Kunst und Depilation. Zu einem intrikaten Zusammenhang aufklärerischer Ästhetik (Art and Depilation. On the Intricate Connectedness of Enlightenment Aesthetics)," Germanisch- Romanische Monatsschrift 55, 2005, pp 283-307
"Inzest und Tabu als Modelle literarischer Epochenerfahrung (Incest and Taboo as Models of Experience in Literature)," Deutsche Vierteljahrsschrift für Literaturwissenschaft und Geistesgeschichte 2001, pp 446-462
"Im Garten der Zeit. Zu einem Landschaftselement bei E. Mörike (In the Garden of Time: Mörike's Landscapes)," Literaturwissenschaftliches Jahrbuch. N.F. Im Auftrage der Görres-Gesellschaft 41, 2000, pp 125-144
"Nathan, disenchanted: Continuity and Discontinuity of Enlightenment in Schiller's The Bride of Messina," Historical Reflections/Réflexions Historiques, ed. Dennis Mahoney, Vol. 26, no.3, 2000, pp 405-427
"Nathan, entzaubert. Kontinuität und Diskontinuität der Aufklärung in Schillers Die Braut von Messina (Nathan, disenchanted: Continuity and Discontinuity of Enlightenment in Schiller's The Bride of Messina)," Jahrbuch des Freien Deutschen Hochstifts 2000, pp 164-188
"Bonum durch Malum? Kleist, die Welt und das Übel (Kleist, the World, and Malady)," Beiträge zur Kleist-Forschung 2002, pp 205-218
"Im Zeichen des Schleiers. Andeutungen zu Eichendorff (Under the Sign of the Veil. Insinuations on Eichendorff)," Apropos Eichendorff. Kleine Beiträge zur klassisch-romantischen Zeit 5, 1999
"Novalis und das Lustspiel. Ein vergessener Beitrag zur Geschichte der Gattung (Novalis and Comedy: An Overlooked Aspect in the History of the Genre)," Aurora 58, 1998, pp 19-33
"Unerreichbar nah. Zur Bedeutung der Goetheschen Novelle für Stifters Erzählkunst (Unreachably Close: The Relevance of Goethe's Novelle for Stifter's Art of Narration)," Jahrbuch der Deutschen Schillergesellschaft 41, 1997, pp 256-294
Articles in peer-reviewed periodicals, accepted
"David Friedrich Strauß und Lessing," Lessing Yearbook 2015
"Friedrich Schlegels Wende zum Bild (Friedrich Schlegel's Iconic Turn)," Athenäum. Jahrbuch der Friedrich Schlegel-Gesellschaft 2015
Chapters in books
"Die Geburt der Metapher aus dem Selbstmord des Dichters. Zu Hölderlins Empedokles (The Birth of Metaphor from the Suicide of the Poet: On Hölderlin's Empedocles)," Ökonomie des Opfers. Literatur im Zeichen des Suizids (Morphomata, Bd. 14), München 2014, pp 133-166
"Zeitkapsel und Paratext (Time Capsule and Paratext)," Verborgen, unsichtbar, unlesbar – zur Problematik restringierter Schriftpräsenz. Tagungsband zum Workshop des SFB 933, Heidelberg 2014, pp 215-232
"Unähnliche Ähnlichkeit. Zu Analogie, Metapher und Verwandtschaft (Unsimilar Similarity. On Analogy, Metaphor, and Kinship)," Similitudo. Konzepte der Ähnlichkeit in den Künsten (Concepts of Similarity in the Arts), ed. Martin Gaier et alii, Munich 2012, pp 29-58
"Textures and Cuts. The Textile Metaphor in Jörg Wickram's The Golden Thread," Unfolding the Textile Medium in Early Art and Literature, ed. Tristan Weddigen, Berlin 2011, pp 15-30
"Ironie (Irony)," Lexikon Literaturwissenschaft. 100 Grundbegriffe (Lexicon Literary Studies), ed. Gerhard Lauer et. al., Stuttgart 2011, pp 137-139
"Freud und die Komödie der Antike (Freud and Ancient Comedy)," Freud und die Antike (Freud and Antiquity), ed. Claudia Benthien et. al., Göttingen 2011, pp 315-340
"Poetologien des Schneidens (Poetologies of Cutting)," Wissenskulturen im 18. Jahrhundert (Cultures of Knowledge in the 18th Century), ed. Ulrich Johannes Schneider, Berlin, New York 2008, pp 637-646
"Schleier (Veil)," Metzler Lexikon literarischer Symbole (Lexcion of Literary Symbols), ed. Günter Butzer, Joachim Jacob, Stuttgart 2008, pp 325-327
"Sicherheit als ästhetisches Paradigma (Security as an Aesthetic Paradigm)," Zeichen des Krieges in Literatur, Film und den Medien. Bd. III: Terror (Signs of War in Literature, Film and Media), ed. Christer Petersen, Jeanne Riou, Kiel 2008, pp 66-96
"Von der Menschheitsfamilie zum Genom. Immermanns Epigonen zwischen Lessing und Mendel (From the Family of Man to the Genome: Immermann's Epigonen between Lessing and Mendel)," Der nahe Spiegel. Vormärz und Aufklärung (The Close Mirror. Vormärz and Enlightenment, ed. Wolfgang Bunzel, Norbert Eke, Florian Vaßen, Bielefeld 2008, pp 347-365
"Erdbeben und Evolution. Zur Genese adaptionistischer Kulturtheorien (Earthquakes and Evolution: On the Formation of Cultural Theories of Adaptation)," Das Erdbeben von Lissabon und der Katastrophendiskurs im 18. Jahrhundert (The Great Lisbon Earthquake and the Discourse on Catastrophes in the 18th Century), ed. Gerhard Lauer, Thorsten Unger, Göttingen 2008, pp 575-595
"Der Skandal als literarisches Schöpfungs-Paradox. Abaelard, Héloise und die Kastration des Textes ('Scandal' – A Paradox of Literary Creativity: Abaelard, Héloise, and the Castration of the Text)," Literatur als Skandal (Literature as Scandal), ed. Stefan Neuhaus, Johann Holzner, Göttingen 2007, pp 63-74
"Anatomia Plastica. Goethe und die Büste (Anatomia Plastica: Goethe and the Portrait-Bust)," Kopf/Bild. Die Büste in Mittelalter und Früher Neuzeit (Head/Image. The Bustportrait in the Middle Ages and Early Modernity), ed. Jeanette Kohl and Rebecca Müller, Berlin (Deutscher Kunstverlag) 2007, pp 305-323
"Die Erfindung des Autors. Schiller und die Populärbiographik (The Invention of the Author: Schiller in Popular Biographies)," Festschrift für Lothar Pikulik zum 70. Geburtstag, Czestochowa 2006, pp 65-76
"Primordial Plant and Blue Flower: Goethe and Romanticism," Goethe e la Pianta. Natura, Scienza e Arte. Convegno, Palermo (Università degli Studi di Palermo, University Lübeck), Palermo 2006
"Der Schleier des Novalis (Novalis' Veil)," Novalis. Poesie und Poetik (Novalis: Poetry and Poetics), ed. Herbert Uerlings, Tübingen 2004, pp 109-123
"Szenen der 'Verwandlung.' Novalis und das Drama (Scenes of Metamorphosis: Novalis and the Drama)," Das romantische Drama. Produktive Synthese zwischen Tradition und Innovation (The Romantic Drama. Productive Synthesis of Tradition and Innovation), ed. Uwe Japp, Stefan Scherer and Claudia Stockinger, Tübingen (Niemeyer) 2000, pp 65-87
"Hofmannsthal und Novalis. Zur Ambivalenz des Erbes (Hofmannsthal and Novalis: On the Ambivalence of Heritage)," Blüthenstaub – Rezeption und Wirkung des Novalis (Schriften der Internationalen Novalis-Gesellschaft, Bd. 3), ed. Herbert Uerlings, Tübingen (Niemeyer) 2000, pp 311-338
"Antonin Artaud," Religion in Geschichte und Gegenwart (Religion Past and Present), 4th edition, ed. Hans Dieter Betz et alii, vol. 1, Tübingen 1999
"'Allenfalls spricht noch aus Märchen Wahrheit.' Strategien der Märchenrezeption bei Günter Grass (The Truth of the Tale: The Reception of Fables and Fairy Tales in Günter Grass's Works)," Märchen und Moderne. Fallbeispiele einer intertextuellen Relation (Literatur im Kontext. Quellen und Studien zur deutschsprachigen Literatur der Moderne, Bd. 2), ed. Thomas Eicher, Münster 1996, pp 133-163
Chapter in books, in print
"Totemismus und Gesellschaft: Eisenstein über Disney (Totemism and Society: Eisenstein on Disney)," Jürgen Pelzer (ed.), [Title to be announced], 2015