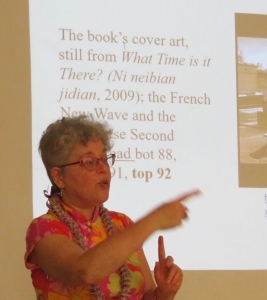 Michelle Bloom
Professor, Comparative Literature/French
Ph.D. in Comparative Literature, Brown University, 1995
DEA in Film Studies, Université de Paris III - la Sorbonne Nouvelle, 1997
Office: HMNSS 2512
Email: michelle.bloom@ucr.edu
UCR | Department of Comparative Literature and Languages
*** ON SABBATICAL FALL 2022 and SPRING 2023 ***
Michelle Bloom teaches comparative literature, film and French. She particularly enjoys offering courses on food and film; French cinema; world film; and Existentialism.
Professor Bloom's current research in food studies continues to explore the interplay between the Francophone world and the Sinophone world, which she explored in her most recent book, Contemporary Sino-French Cinema: Absent Fathers, Banned Books, and Red Balloons (University of Hawai'i Press, 2015). Contemporary Sino-French Cinema examines the crossover between France, on the one hand, and East Asia (especially Mainland China and Taiwan), in film. Professor Bloom aims to go beyond the polarities of orientalism, instead considering contemporary cinema through the optics of métissage, translation, intertextuality and imitation. Related articles address Sino-French films by directors Dai Sijie, Hou Hsiao-hsien, Jia Zhangke, Emily Tang Xiaobai and Tsai Ming-liang.
Her first book, Waxworks: A Cultural Obsession (University of Minnesota, 2003) examines wax figures and wax museums and in literature, cinema, history and popular culture. Professor Bloom has also published on Truffaut and Henry James; Baudelaire and Wagner; Balzac and Champleury; Villiers and Zola.
At UCR, Professor Bloom serves as a Wellness Ambassador and LGBT ally. Outside of the classroom, she likes to bake (and eat!) madeleines and to travel to France as well as China/Taiwan/Hong Kong.
Contemporary Sino-French Cinemas: Absent Fathers, Banned Books, and Red Balloons
December 2015, University of Hawaii Press
Transnational cinemas are eclipsing national cinemas in the contemporary world, and Sino-French films exemplify this phenomenon through the cinematic coupling of the Sinophone and the Francophone, linking France not just with the Chinese mainland but also with the rest of the Chinese-speaking world. Sinophone directors most often reach out to French cinema by referencing and adapting it. They tend to view France as mysterious, sexy, and sophisticated, just as the French see China and Taiwan as exotic.
As Michelle E. Bloom makes clear, many films move past a simplistic opposition between East and West and beyond Orientalist and Occidentalist cross-cultural interplay. Bloom focuses on films that have appeared since 2000. She views the work of well-known directors such as Tsai Ming-liang, Hou Hsiao-hsien and Dai Sijie through a Sino-French optic, applying the tropes of métissage (or biraciality), intertextuality, adaptation and remake, translation, and imitation to shed new light on their work. She also calls attention to important, lesser studied films: Taiwanese director Cheng Yu-chieh's Yang Yang, which depicts the up-and- coming Taiwanese star Sandrine Pinna as a mixed race beauty; and Emily Tang Xiaobai's debut film Conjugation, which contrasts Paris and post-Tiananmen Square Beijing, the one an incarnation of liberty, the other a place of entrapment. Bloom's insightful analysis also probes what such films reveal about their Taiwanese and Chinese creators.
Links: