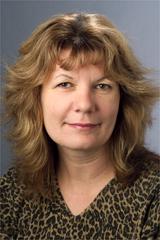 Heidi Waltz
Lecturer, Linguistics and German
UCR | Department of Comparative Literature and Languages
Biography
Heidi Waltz's areas of instruction are linguistics and German. She embarked on her undergraduate studies at Heidelberg University, Germany, and completed her graduate work at UCLA after a DAAD scholarship brought her to the United States. Her main interests are in comparative-historical syntax, language acquisition, and heritage language learning. She has lectured and published on issues in Germanic syntax, historical dialectology, and heritage language acquisition.
Degrees
B.A. French 1984
California State University, Fullerton
M.A. Linguistics 1986
California State University, Fullerton
PhD in Indo-European Linguistics
UCLA, 1993
Awards
DAAD Scholarship Ruprecht-Karls-Universitaet Heidelberg/Germany
Research Area
Historical Germanic syntax; bilingualism; comparative Indo-European dialectology, language pedagogy, etymology
Selected Publications and Lectures
"Proto-Germanic Plain C-stems: A Case Study." Indogermanische Forschungen 19 (1991).
"(Im)personal Verbs of Emotion in Germanic." Indogermanische Forschungen 105 (2000).
"Syntactic Variation as Reliefgebung." Paitimana. Essays in Honor of H.-P. Schmidt. (Festschrift) (2002).
"Delbrück's Umdrehung in Context." New Insights in Germanic Linguistics III (2002).
"Heritage Speakers and L2 Learners: Linguistic Profiles and Pedagogy." (Invited Talk) 12th Annual CSUF Linguistics Symposium, April 2003.
"Heritage Language Grammar: Evidence from German." 2nd UC Language Consortium Conference on Theoreticaland Pedagogical Perspectives, organized by UCCLLT, UC Santa Cruz, March 2004.
"Historical Linguistics and Language Pedagogy: German Strong Verbs Revisited." 3rdUC Language Consortium Conference on Theoretical and Pedagogical Perspectives, organized by UCCLLT, UCLA, April 2006.